Date: December 15 2018 @ 7:30 (Sunrise: 7:21 am)  – ***NEW DATE***
Cost: $10 – This must be brought to the start line.
Distance: 14ish miles
Registration: https://goo.gl/forms/bQRWnLTHuSR5i9TI2
Winner: Anyone (seriously!)
Merch: This will be your first opportunity to purchase some sweet secret T-RECs swag.
With the Beat Your Rank, Win Some Bank race, you're competing against your past results. Your time in the race will be multiplied by your Ultrasignup score (overall, not your age rank – though we may calculate that too) to determine your adjusted time. Literally anyone on the starting line could end up winning!
There is a charge to compete, $10 cash, which must be brought to the start line.
All cash will be put into a pot and then the top man and woman (adjusted times) will split 50% of the pot, the second place man and woman will split 25% of the pot and the remaining 25% will be donated to trail maintenance at Elm Creek. This is a great opportunity to compete on an even playing field, possibly win some cash, have fun running with friends, and give back to the trails we all enjoy. You must signup via the Google doc so we can verify your Ultrasignup rank prior to the race.
Wait, what? How does this work?
All you need to do is run two laps at the Elm Creek Horse Trails – one clockwise, one counterclockwise (the order is still TBD). But the first person across the line might not be the person who wins. The "clock time" will be adjusted by the Ultrasignup score (time x Ultrasignup percentage = Adjusted time)
Here's an example.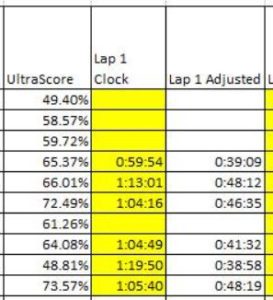 So despite crossing the line at the end of loop 1 last, the person who ran a 1:19:50 actually ends up with the fastest time – 11 seconds ahead of the person who crossed the finish line first.  The person who ran a 1:13:01 ends up 7 seconds faster than someone who ran a 1:05:40! We'll take care of all the math – you just need to run!
Follow BYRWSB on Facebook:  https://www.facebook.com/events/2173510216235277/
If you do not have any results on Ultrasignup you can leave a link to some of your results at either a half marathon or marathon and the race directors can assign you a ranking based on some past results; I'll note that this is solely up to the discretion of the RDs and we may not be as kind to someone without an Ultrasignup ranking.