Course Preview Video
Elevation
The course is generally considered to be flat and fast, though there are three hills per loop. The elevation chart below shows the elevation per loop (measured in inches)
Please be aware that the elevation profile may be affected by course conditions. The 2018 race was held in several inches of snow limiting the impact of the three hills on the course.
2018 Sandlot Marathon Participant Mike Barton, describes the race this way:
Elevation gain consists of three climbs on each lap and you can relax as you round home plate since it is pretty flat. You'll do these climbs a lot, so be prepared.

Total gain per loop is about 9. The course profile has been described as a "sawtooth" or "spikey." Cumulative gain is about 3400 with an equivalent amount of loss. It's evenly distributed through the course so don't count of being able to relax on the downhills all that much.

The 2018 race was observed and measured carefully. I determined the cumulative gain was less than expected each loop. So 2018 is considered an easy year. You should not expect that to continue.

GPS is know to measure poorly for elevation, so reports from watches, phones, and Strava should not be trusted as you develop your hill training plans for 2019.

*fine print: all measurements in inches to the +/- 1 tolerance.
Course Markings
The course will be well marked. The pitcher's mound will always be on your left when rounding the bases, and runners are expected to stay within the base paths except when passing. No course cutting. Turns on the course will be marked with orange cones or similar markers.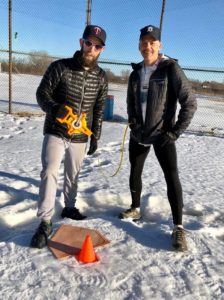 Aid Station
There is one aid station per loop, featuring hot dog flavored heed as well as heed flavored hot dogs. The longest gap between aid is 0.0682 miles. Please plan your nutrition and hydration strategy accordingly. There is no opportunity for aid outside of the aid station. The aid station will be located near the home team's on-deck circle. We are not able to provide GPS coordinates or driving directions, but the aid station will be clearly marked with signage similar to this: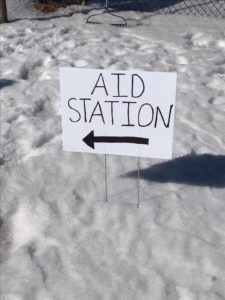 7th Inning Stretch
There is a mandatory rest stop three hours into the race (for the 2018 event, this occurred at noon). All participants must be present at home plate for the singing/playing of "God Bless America" as well as "Take Me Out to the Ball Game," before the race will resume. Participants are allowed to utilize the aid station and/or drop bags during this time, but must return to home plate to begin their next lap.
Strava Fly-by
Using the Strava Fly-by, here's what you can expect to experience during the Sandlot Marathon: