As you're all well aware, this has been a historically cold and snowy winter, burying baseball fields – and everything else – in nearly 4 feet of snow. After numerous conversations with the fine folks at "Back to the SRO" about the condition of their baseball fields, we've made the decision to change the location for the Sandlot Marathon, Minor League Half-Marathon, and Little League 5K.
The new location of the race will be the Dave Anderson Athletic Complex (DAAC) in Elk River, Minnesota – https://www.elkrivermn.gov/Facilities/Facility/Details/46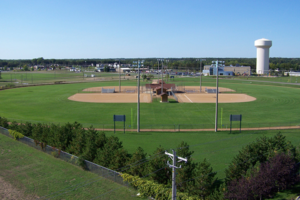 The good news for those of you in the Twin Cities metro or coming from the South is that this means a shorter drive than heading up to Oak Grove. At the same time, we understand and apologize for the inconvenience for those of you who are traveling from the north as well as those of you who have booked hotel rooms or other accommodations. Changing the location of the race was a last resort, but ultimately, we feel that it is the right decision to allow us to provide a fun and fantastic race-day experience.
We'd like to thank the Elk River Parks and Recreation department for their willingness to work with us, and for not laughing at the request to have runners log 15,016 laps (at last count) around the fields at the DAAC.
With two weeks to race weekend, we'll begin posting some additional details about race day (shirts, awards, lap tracking, aid station fare, our very generous sponsors, and a few surprises we can't share quite yet). We'll provide these updates via the Sandlot Marathon Facebook page (https://www.facebook.com/SandlotMarathon/), as well as posting to the website at https://sandlotmarathon.com/.
Finally we'll also be sending out an email the week of the race with some of the final details. In the meantime, if you have any questions or concerns, feel free to contact us via Facebook or email sandlot@sandlotmarathon.com.
If you haven't registered yet, you still can until March 13th (though you won't get your shirt on the day of the race) or sign up to volunteer at https://sandlotmarathon.com/volunteer/
We can't wait to see you take the field March 16th!
Andy, Brian, Joe, Luke, Mark, Matt, and Tim (D.U.R.T Race Directors)